A guide to hiring a Marketing Consultant: 5 things to know
Hiring world class talent can bring your organization to new heights and help you reach your business goals. 
Marketing is a big job—especially in this age of continual digital marketing. But, hiring a marketing consultant is a really big step for most small businesses. There are some things you should know to make the hiring process easier when choosing a marketing professional to run your strategy.
5 things to know when hiring a marketing expert
It takes a serious investment to bring on a marketing expert to run your department. You can get a lot out of a quality strategy backed by expertise, but it's important to remember that marketing pros aren't magicians. They will have to work within the confines of your brand, the commitment of your team, and the depth of your marketing budget.

Here are five things you should know when hiring a marketing consultant.
1. The checklist for hiring a marketing consultant
You will want to make sure that the right marketing professional is chosen to run your account. Whether you are hiring in-house or choosing to hire a Strategic Marketing Consultant, you should still have a similar checklist to find the right fit
2. The benefits of hiring a marketing consultant
Your marketing consultant isn't going to work magic. They are highly trained professionals who understand cutting-edge marketing tools and how to work through algorithms. They are going to be limited by your budget, team, and branding. Understanding these potential hurdles to their marketing efforts is going to help a lot in keeping the relationship healthy and productive for a strong marketing plan.

You will need to communicate with your consultant and not assume they understand your goals, challenges, or objectives. Every client is going to have their own set of preferences. The more you can provide examples of content you love and how you are different from the competition, the more the marketing consultant will understand what you are after. It may take some back and forth to get on the same page.

A good marketing consultant will:
3. What to expect when adding a marketing consultant to your team
The right professional is going to get to know your business and then help you navigate the best practices for marketing to your target audience on various platforms. Knowing what to expect from your marketing specialist can help you find the right fit for your team.

Skills important for a marketing consultant: Without a doubt, marketing consultancy is going to require a problem-solving approach and organized planning capabilities. Your expert should be able to understand the challenges of e-commerce, copywriting, and content marketing. As a professional marketer, the consultant should have a good grasp of what it takes to write an effective inbound marketing strategy, buyer personas, and branding guidelines to cover your business needs

A top-level marketing strategy: Your consultant isn't going to do any of the implementation—just create the strategy itself. This strategy should help clarify your ideal customer, what you should expect to pay for new acquisitions, where to target leads, and how to position your product or service as a solution. Business owners often have a good idea for what they do and who they serve, but this strategy will really clarify direction and provide a roadmap for all future marketing campaigns to follow.

How much it costs to hire a marketing consultant: You are going to find a wide range of pricing when it comes to choosing a consultant. Freelancers may go by an hourly rate. Agencies and marketing strategy consultants will likely charge a flat rate for an audit or strategy map. These are all cheaper options than hiring a full-time CMO. A marketing agency tends to sell strategies that line up with the other services they offer. Hiring a standalone marketing strategy consultant, you won't have to wonder if you are getting a strategy that is somewhat formed by the mold of the overarching agency's direction.
4. How to find and recruit your marketing consultant
The hard part is typically finding the ideal marketing consultant and getting them on board. You can post your request to job boards or go searching for a marketing consultant who comes highly recommended. While some marketers only work full-time others are willing to work part-time or for short-term contract bids. You might find reviews or testimonials of marketing consultants on:
You will learn a lot about how their personal profiles and website copy looks. Are they good at what they do? Their personal content will give you a pretty good look into their methodology and experience. It isn't a sure-fire way to tell, but the way they treat their own site says a lot.

Be careful to choose a marketing consultant that isn't limited to one aspect of the strategy. A good consultant will understand all aspects of marketing. They will not be the ones implementing the strategy, but they may be able to help connect you to highly skilled teams or professionals where you can outsource certain aspects of your marketing.

When you do find the ideal consultant, sell your business to them. The best consultants aren't going to need your business because they will have other clients. Tell them how great a client you are and be clear about what you hope to get out of the relationship. The relationship is going to be a two-way street. You can't expect a marketing professional to bend over backward for you and the good ones will know their value. 

If the options seem a little overwhelming, we can help. At CMOx, we can provide a strategy call to see what our marketing consultants could do for you.
5. Make sure your team is ready for a marketing consultant
Is your team ready to take on a strategy written by a third party? An objective game plan from a marketing consultant can sometimes feel like an attack on certain teams. Prepare your team by helping them be receptive to change and buy-in to the process.

Your team should:
Without your team on board, you will have an uphill battle. They need to be ready to jump into the new strategy and make it work. If they are less than enthusiastic, the strategy will easily go sideways. It can really help to have key members of your marketing team in the meetings to help present challenges and hear the guidance straight from the marketing consultant.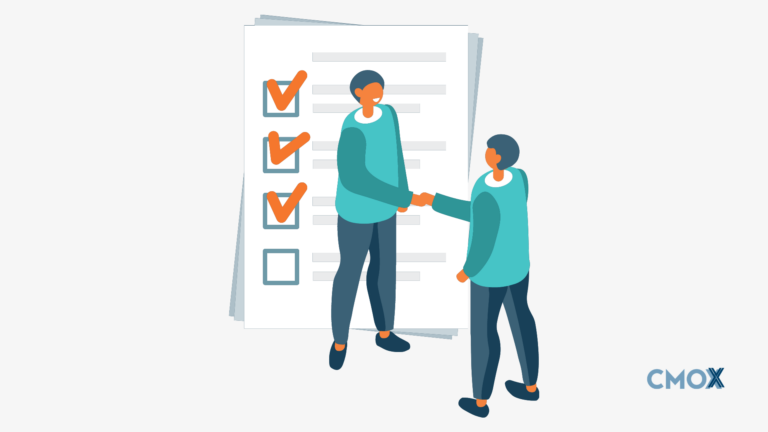 Hiring a Marketing Consultant for your startup or small business?
If you are stuck and want to grow bigger but don't know what else to try, an experienced marketing consultant is the right move. You can get a strategy from an outside perspective to help catch pitfalls and weaknesses you might be overlooking. This strategy will help clarify your marketing direction and get your team moving in the same direction.

Are you ready to have a professional audit your current strategy and formulate a new marketing map? We can help! Contact CMOx today to talk about how our marketing consulting services can get you moving in the right direction.
If you're not reviewing these 7 KPIs monthly, you don't know the health of your business.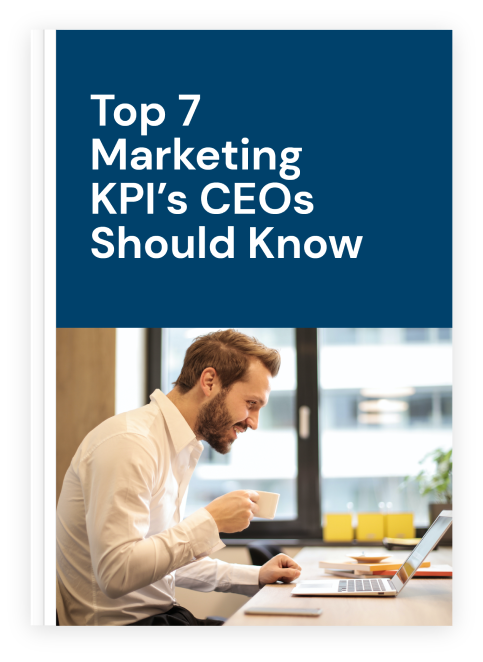 Success might be slipping your grasp right in front of you without you knowing. Learn about readily available data that if used properly can lead to exponential growth.
Download our free report to: